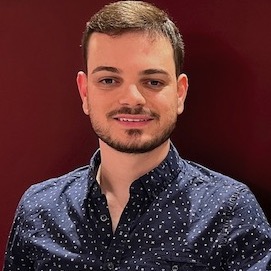 Johnnatan Messias
Research Scientist at Matter Labs
About me
I am a Research Scientist at Matter Labs and a Ph.D. Candidate at the Max Planck Institute for Software Systems (MPI-SWS) in the Blockchain Research group and the Universität des Saarlandes (UdS). I am advised by Dr. Krishna P. Gummadi and my Ph.D. research focuses on fairness concerns on proof-of-work blockchains and on Decentralized Finance (DeFi). My advisor and I started the MPI-SWS Blockchain Research group in August 2018. Our group has collaborators from Inria, Northeastern University, and Vrije Universiteit Amsterdam. In 2022, I did a 6-month research internship at Chainlink Labs. In 2017, I completed my Master's degree in Computer Science at the Universidade Federal de Minas Gerais (UFMG), Brazil, with Dr. Fabrício Benevenuto as my advisor. During my MSc, I also held two research intern positions at MPI-SWS in Saarbrücken, Germany. I studied Computer Science at Eötvös Loránd University (ELTE) in Budapest, Hungary, in 2013/2014 during my exchange program (Science Without Borders - CAPES). I completed my undergraduate degree in Computer Science at the Universidade Federal de Ouro Preto (UFOP), Brazil, in 2015.

I have also worked on machine learning projects for risk and loan default prediction and health insurance characterization and forecasting. One of the projects was awarded as the most innovative health software in Brazil in 2019, according to IT Forum 365, promoted by PwC and ITMidia. In 2018, I joined the "Eleições sem Fake" project to provide transparency along with the Brazilian elections and counter misinformation.

My full name: Johnnatan Messias Peixoto Afonso.
Selected Publications
For a full list of peer-reviewed conference and journal publications, kindly check my Google Scholar or DBLP Profile.
Thesis and technical reports
Characterizing Interconnections And Linguistic Patterns In Twitter

Master Thesis. Computer Science Department. Universidade Federal de Minas Gerais (UFMG). 2017.

Abstract: Social media is considered a democratic space in which people connect and interact with each other regardless of their gender, race, or any other demographic aspect. Despite numerous efforts that explore demographic aspects in social media, it is still unclear whether social media perpetuates old inequalities from the offline world. In this dissertation, we attempt to identify gender and race of Twitter users located in the United States using advanced image processing algorithms from Face++. We investigate how different demographic groups (i.e. male/female, asian/black/white) connect with each other and differentiate them regarding linguistic styles and also their interests. We quantify to what extent one group follows and interacts with each other and the extent to which these connections and interactions reflect in inequalities in Twitter. We also extract linguistic features from six categories (affective attributes, cognitive attributes, lexical density and awareness, temporal references, social and personal concerns, and interpersonal focus) in order to identify the similarities and the differences in the messages they share in Twitter. Furthermore, we extract the absolute ranking difference of top phrases between demographic groups. As a dimension of diversity, we also use the topics of interest that we retrieve from each user. Our analysis shows that users identified as white and male tend to attain higher positions, in terms of the number of followers and number of times in another user's lists, in Twitter. There are clear differences in the way of writing across different demographic groups in both gender and race domains as well as in the topic of interest. We hope our effort can stimulate the development of new theories of demographic information in the online space. Finally, we developed a Web-based system that leverages the demographic aspects of users to provide transparency to the Twitter trending topics system.
Framework para Sistemas de Navegação de Veículos Aéreos não Tripulados

Bachelor Thesis. Computer Science Department. Universidade Federal de Ouro Preto (UFOP). 2014.

Abstract: Autonomous unmanned flights undoubtedly enable new opportunities for scientific development. The drones can be used in military services, for example, in combat or as well as for rescue missions, aerial survey, supervision and inspection of a territory, attracting significant attention from media outlets such as, for example, television stations, radio, newspapers and internet. The goal of this project is whether it is possible to make viable autonomous flights at AR.Drone 2.0 and the understanding of its operation. This will require the implementation of a control program for autonomous flights. This framework requires the acquisition of data during the flight, which are obtained using sensors which use Arduino. The Arduino communication with the drone is needed for the inclusion of new sensors and the use of the AR.Drone is performed by the framework Node.js. Each remote button has a specific command, and may be in order for the user to create own missions or even perform some missions previously implemented by the developer. All tests were run on the AR.Drone 2.0, using the Node.js framework, sensors and a remote control. Through the experiments and presented studies became possible to achieve the proposed objective, making possible the implementation of autonomous flights in drone. As a result, for the realization of autonomous flight we designed a framework where the user can create autonomous flight missions for the drone run them. These commands are sent to the drone by the user due to use of a remote control. This remote control sends data to a sensor connected to the Arduino that processes the data and then is read and interpreted by the drone.
Interests
Blockchains
Data Analysis
Social Networks
Machine Learning
Education
Ph.D. in Computer Science

2018 - present

MSc in Computer Science

2015 - 2017

Student Exchange

2013 - 2014

BSc in Computer Science

2009 - 2014
Language
Portuguese

(Native)

English

(Professional)

German

(Basic)